Creating a Divorce Budget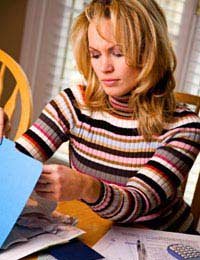 If you are divorcing from your partner you will need to provide a breakdown of all your earning and spending plus your complete current financial position, to the court. It is one of the first things your solicitor will ask you to do. You will also find creating a budget helpful personally. It should be at the top of your list of priorities.
Making a Cash Flow Statement
There are two parts to the budget process: listing your income and expenses, and detailing your financial position. You should make a start with your annual cash flow statement. Firstly, list any income you receive in a year, including your salary, benefits and investments. Then you should make a list of all of your expenses. Divide them into:
Fixed outflows such as mortgage, utility bills and taxes that must be paid on time.
Variable costs like food, travel, clothing, child care and holidays.
Savings and investments, including pensions, ISAs and savings for emergencies.
The statement would take the form:
Budget Planner
INCOME
£…… Salary
£…… Benefits
Etc.
£…… Total Income

EXPENSES – FIXED
£…… Mortgage/Rent
£…… Council Tax
Etc.
£…… Total Fixed Expenses

EXPENSES – VARIABLE
£…… Food
£…… Car
Etc.
£…… Total Variable Expenses

SAVINGS AND INVESTMENTS
£…… Pension contributions
£……ISA
Etc.
£…… Total Savings
Remember to list all your outgoings, including haircuts, newspapers and decorating, or quarterly and annual bills.
Once you have calculated all your income and expenses, you should add the sub-totals of the three outgoings together to make 'Total Expenses'.
Finally, subtract your 'Total Expenses' from your 'Total Income' to give the final 'Balance' of your year's earning and spending.
If Your Cash Flow Statement is Inaccurate
If there are discrepancies between the figures arrived at in your cash flow statement and how much you actually have in the bank or in your hand at the end of a month or year, you should check what is missing from your statement. Perhaps ask a family member or friend to double-check it for you.
If you are really having trouble making the cash flow statement match up with reality, there is one solution that every financial guru eventually recommends. You must audit your expenditure. This means that for one month you carry a pen and notepad and write down every item you spend money on. You will probably find all sorts of small items adding up to the shortfall between your estimate and your actual balance.
Working Out Your Financial Position
Once you have created an annual budget, you will need to work out your financial position or balance sheet. Where as the budget shows your position over a period of time, a balance sheet is a snapshot at a specific date. It includes all your family's assets and liabilities and tells you how much you and your partner are worth. It will enable you to see what assets and capital there are to be divided and any shared debts or other commitments that will need to be deducted.
The structure should be as follows:
Statement of financial position as of date:
CASH & CASH EQUIVALENT ASSETS
£…… Building society accounts
£…… Bank accounts
£…… Tessas, ISAs, other savings
Etc.
£…… Total Cash & Cash Equivalents

INVESTING ASSETS
£…… Life assurance plans
£…… Equity
£…… Stocks & Shares
Etc.
£…… Total Investing Assets

USED ASSETS
£…… Main residence
£…… Other property
£…… Car, Furniture
Etc.
£…… Total Used Assets

PENSION ASSETS
£…… Personal pension plans
£…… Company pensions
Etc.
£…… Total Pension Assets

£…… TOTAL ASSETS

TOTAL LIABILITIES
£…… Credit card balance
£…… Other loans balance
£…… Mortgage balance
£…… Bank overdraft
Etc.
£…… Total Liabilities

NET WORTH

£…… Total Assets minus Total Liabilities
Note: Pensions are calculated at current cash equivalent transfer value.
You might also like...