Can I Legally Force My Ex to Sell Our Property?
By: Lorna Elliott LLB (hons), Barrister - Updated: 7 Oct 2021
|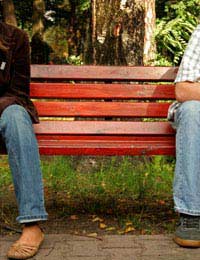 Q.
Please can you let me know whether I can legally force my husband to sell our property, he has been very difficult and unco-operative. He is not paying enough of the mortgage which it has now gone into arrears. We have no children under the age of 23.
(B.G, 21 April 2009)

A.
I'm sorry to hear about your difficulties with your husband. This is obviously not a situation that should be allowed to continue because sooner or later the lender will start to ask questions about the arrears.
Seek Legal Advice
The answer to your question depends on numerous factors but I would advise you to see a solicitor as early as possible. The best way to do this in the first instance is to ask the Citizen's Advice Bureau for a list of local solicitors who will be able to give you half an hours worth of free legal advice.
Separation/Divorce
I am unable to determine from your question as to whether you and your husband are still together and living in the same house. If you are separated it also may be sensible to seek advice from your lawyer about what would happen in the event that you divorced your husband (I assume you aren't already divorced) and the way in which your shared assets and your home would be split.
If your relationship has broken down, and both of you own your home as 'joint tenants' the first thing you would need to do is sever the tenancy to make you 'tenants in common.' Your solicitor will be better placed to advise you on this.
Forcing the Sale
What I can tell you is that if you own your house jointly in a 'trust for sale' you may be able to force the sale of the property. This is done by applying for a court order that would in effect allow for the property to be sold, and would provide a timescale within which it should be sold.
What You Should Do
At this stage, you should make a note of the way in which your husband is being un-cooperative, and in as much detail as possible what he has done to get you into this situation. This will be very useful for your solicitor in the event that you do need to apply for a court order.
I really think it's best that you go and seek legal advice straight away. Good luck.
You might also like...
I have been separated from my ex husband since 2019. The divorce was finalised in 2020. I have asked him on numerous occasions to sell our jointly owned property as I can not afford to buy a home for myself and our children without the moneyinvested in the property we own. He will not cooperate at all. How can I make him sellthe place so that I am able to move him?
Tina
- 7-Oct-21 @ 7:04 PM
I have been with my partner 12 month now and i moved in with her about 6 months ago. I no longer want to be in this relationship and I need money quickly to pay for a deposit on a rental property. She has told me to leave if I do not wish to continue this relationship but i have nowhere to go,Can i force her to sell as we are not married but i have given her the best 12 months of her life so she has told me on numerous occasions
tommy
- 8-May-21 @ 9:23 PM
Hi there i am currently going through a divorce and we have drawn up a financial order agreeing that we put the house on the market and sell the equity split will fall 55% to me 45% to him. The house has been on the market for 6 months but no offers. My ex is suggesting that a buy him out by putting my new partner on the mortgage as i cannottake the mortgage on in my name alone. He's also suggesting that once myself and new partner are joint owners we then port the mortgage across to a new home and seek to get a 2nd mortgage to cover the additional cost. He wants me to do this because he wants to buy a house with his new girlfriend and whilst he's still attached to the mortgage this will be difficult for him to do. I don't really want to keep the house as its not suitable for my needs or the children's so my plan was to stay in the house until it sold and then split equity and start a fresh with my new partner. Is there anything he can do via solicitors to be able to do this? obviously we both want to move on but i dont want to get myself into more difficulties.
chris
- 29-Jan-21 @ 2:23 PM
I am divorced from my wife but want to sell the marital home that she still lives in. The mortgage is in both of our names
Jase
- 8-Jan-21 @ 11:30 AM
Hi there, We have a house in Joint names with my male partner. We have been together for 5 years although we recently had a year living apart but got back together about 18 months ago. We are not married or in a civil Partnership. We are just living together and own the house together. However I put a deposit of £150,000 down to help purchase the house and this is protected by a Deed of Trust drawn up by the lawyers we used to purchase the house. I would like to buy him out or sell the house. He has said no to both suggestions. What can I do to force him to do one or the other? I have a much higher stake in the house but we pay equal amounts into the mortgage which is in joint names. I have another property which i rent out and I could sell this to buy him out which is my preferred option. He does not have the income to buy me out or cover the mortgage on his own, although we do have lodgers which covers the Mortgage in full. What can I do please?
Adrian
- 18-Oct-20 @ 9:43 AM
My husband and I have been married for 25 years but we have not been happy for over 15 years.We stayed together for the children, 22 and 15. I have now had enough and want to start again on my own with the children. We have no mortgage now, I have a good job but my husband doesn't. He can't afford another mortgage but I can but would need to sell the house or buy him out. Can I force him to sell?
Vicky
- 6-Sep-20 @ 3:44 PM
I found out 2 months ago, that my husband of 30 years was having an affair.. My name is solely on the deeds and mortgage. He is trying to force me to sell up, and has threatened to move back in the house if I dont put it on the market, Can he force me to do this, and can he move in in? He wants 50 percent of the house, but also has more money in the bank than I and has a car valued at approx 6k, He said I am not entitled to anything from him, and I can have the furniture instead
Super
- 3-Sep-20 @ 11:53 AM
Your enquiry: Can my ex force a sale on my property? We did have an agreement to sell, which the property is currently on the market. After speaking to my financial advisor he's told me that I wouldn't beable to buy another property due to my affordability. I have 2 dependents and we wish to stay in the property, and I have offered a pre payment which I'm raising from a remortgage, and then would pay the remainder when I sell the property when I no longer need to a 4 bedroom property. Bearing in mind my ex is an IT consultant earning a good rate…… Your help on this would help grately.
Tracy
- 14-Aug-20 @ 12:03 AM
I left my husband and our jointly owned house over 4yrs ago, mortgage paid.I seen a solicitor in 2016 and 2018, also been to mediation which he never attended but emailed them saying that we were dealing with the problem and that we had agreed to look at equity release. I have since moved back into our house due to having no money,I told him I was only staying until he gets this equity sorted out and then I'm off to Spain. My partner Toma's is there now, my husband thinks , well I'm not sure, I don't explain to him but he makes comments about him which are entirely wrong. Now he is waiting for this covid virus to calm which is not necessary as equity arrangements can continue over the phone. I'm so frustrated with him, he should be grateful that I will except £40.000 instead of making him sell the house.He has lived rent free for 4 yrs while I have been renting. He thinks I'm stupidbecause he says, " I'm not selling I don't have too" The problem I have is I'm skint and on uni credit. What can I do and how long will any action take please? I just want out, then file for divorce??
Susan
- 17-Apr-20 @ 5:44 PM
Hello My partner has been separated from his ex wife for nearly 10 years now and she still lives in their jointly owned home with their 15 year old daughter. She also has a 4 year old son to a different partner but he doesn't live in the house with her and the children. We are unable to move forward in terms of buying a property and have been forced to rent for the 5 years we have been living together. She is unable to get the property in to her name as they won't approve the mortgage and will not remove my partners name either. She is refusing to move and sell the house. When my partners daughter is of age possibly at 18 years of age can he force the sale of the house as the other child is not his responsibility? Any help or information would be greatly appreciated on this matter. Thank you
Nic
- 4-Apr-20 @ 11:00 AM
Hi I own a house jointly with my mother. After mortgaging twice for my mother to pull money out and clear debts I now wish to sell this property and for my name to come off the mortgage so I can purchase my own residential property. (My mother does not have anyone else to take over the mortgage from me nor can she afford to take over on her own). Things have turned nasty and I am currently awaiting for a court date in regards to forcing the sale of the property. My question is does anyone know how likely it would be that the sale will be issued? (on the ownership declaration form I own 99%). However x2 of my older sisters have now moved in with my mother with their children (2 and 3 years old). Will these new minors cause an issue? They are not my mothers children so surely it is down to their mothers (my sisters) to put a roof over their heads. I think they have moved in to prevent the sale of the house? Help I just want this resolved. Also I have paid £20,000 for the solicitor, barrister and to go to court - does this sound about right?
PPB
- 27-Jan-20 @ 1:58 PM
My mum and dad divorced in Feb after 45 years of marriage.My mum still lives in the property (dad has been in hospital/care homes for 4 years.The house and land form an atypical blight notice under HS2 and we are waiting on a valuation (which we are close to receiving).Mum is mindful to accept the valuation when it comes (we have an idea as to what it will be) but dad has now decided that the valuation that the land agent suggested (which was as comparable as possible) is now out by about 500k and will not sell.Mum needs to be out of the place, there are some fairly major repairs that need doing but she cannot afford to do them (new roof and windows for a start).We feel that dad *who lapses in and out of having capacity in any eventis being unreasonanle.Can we force him to sell?
Chelle
- 21-Nov-19 @ 9:14 AM
I'm currently on pension and wanting to relocate abroad. I have suggested to my wife we sell the property, payoff the bank and use the equity to deposits for a new house in the children's name while I relocate with some money. She insisted she won't sell. Can I force a sale? Thank you very kindly Dondee.
Dondee
- 18-Nov-19 @ 10:37 AM
Hi my marriage of 23 years has come to an end. I am going to stay with a friend for a few months to sort myself out and my husband is going to stay in the house. I shall pay my share of the mortgage. He insists that he wants to keep the house until our youngest daughters finishes uni in 3 years time but I want to sell it now. Can I sell the house?
Hilly
- 30-Oct-19 @ 11:38 PM
I am living in our jointly owned house with our 3 children, the youngest is 17. I am divorced, and have been paying the interest on the mortgage with no contributions or maintenance from my ex, for about 10 years. He now wants to sell the house. Can he do this and if so how does he go about selling it without my permission?
Beck
- 30-Oct-19 @ 4:34 PM
I my ex wife still lives in how House we divorced 9 years ago my son was 11 years old at the time he as now finished schooling and as a job she lives there with a new partner I am now re married I have to rent all the time as I still part own the house how can I get the house sold
Mick
- 23-Sep-19 @ 6:30 PM
I believe I have no option but to hand back the keys to my mortgage lender after 22 years of faultless payments due to the fact that my ex-wife who lives abroad and is joint owner refuses to have anything to do with selling our property. I would be happy to sell and give her her 50%. I myself need to move abroad soon and cannot continue paying the £1000 a month as I need to move on with my life and new wife. I need to know what the process involves and how much I will receive back from my lender once they sell the property and take their mortgage outstanding and penalties The mortgage is interest only - the amount loaned is £241,000 - the rough estimate of market value is £435,000
NeedToMoveOn
- 20-Jun-19 @ 1:49 PM
I separated with my ex in 2011 , since then she has continued to live in a house the family home with our two children. I have received a letter recently from her solicitor asking me to sign the property over to her as she has been making payments to the mortgage since we broke up. This is true however I have always given her regular maintenance payments for the children and house. Where do I stand. The house has 150,000 equity approx.
Ryry
- 12-Jun-19 @ 10:43 AM
I have been trying to sell our family home because my husband wants to come back against my wishes and an injunction.I have finally got a reasonable offer but he refuses to sell it.He has a domestic violence case pending.What can i do to force him to sell with not much money.
Iggy
- 11-Jun-19 @ 10:54 PM
Hi My wife divorced me approximately 6 years ago and wanted nothing in the divorce. Her name is still on the mortgage and we both want it removing but it is going to cost me a lot to do this. She is now wanting to force me to sell the house l v paid the mortgage on since we've had it so she can buy another house with her new man. Can she force me too and if she can is she entitled to any money from the house sale? Thank you for any help you can offer.
Please
- 18-May-19 @ 11:24 PM
Split with father of my 2 young boys but he won't let me sell the house because we had a large gifted deposit from his dad. Told him I don't care about that I just want to get 50% equity so that I can keep a roof over the kids heads. He still won't let me. I have nowhere I can move to as a temp job and he will not leave which just makes everything worse. We're not married. Can I force a sale? Where can I find help? I'm desperate for a solution because it's going to start upsetting the little ones.
Help!!
- 13-Mar-19 @ 12:17 PM
I'm trying to help my friend who is in an awful position. She moved out of the FMH in 2016 after 30 years of marriage, and took her teenage daughter with her (she suffers major anxiety/mental health issues). The marriage had broken down, and the husband was constantly arguing with the neighbour resulting in my friends's own mental health suffering so she had to move out for hers and her daughter's sake.She has a joint mortgage with her husband who is paying the mortgage as she has had to find a rental property. Husband does not contribute financially for the daughter, now 16. Husband is refusing to sell, after many promises that he will. She gave him time to sort himself out and after 2 years separation applied for a divorce using a solicitor in order to take the matter to financial court.He has not signed the papers and still refuses to sell saying she can go back to the FMH which is not an option due to current MH issues. She does not want anything from him other than 50% of the equity of the house, not even his pension/lump sum that he gets next year. Although husband is paying the mortgage he is self employed and is now on the sick as he says he has MH issues and back/leg issues. He refuses to help his situation eg. getting sickness benefit. She works part time but her tax credits etc stop at some point this year and she needs to move on and buy a property as rental is too expensive even though she is in a basic house. I'm also concerned that he may use his sickness to stop any sale, can he do that? What can she do please? Thank you.
Ferni
- 7-Mar-19 @ 1:50 PM
My son and I moved out of the family home 7 years ago as my ex wouldn't leave me alone while we were living there,we got divorced albeit a very difficult along with a custody battle. Now 7 years on I still own half the property and my ex refuses to sell or buy me out even down to if he doesn't pay the council tax they take it out of my wages. I am in debt and desperately need my money out of the house to move on. I am working just to keep my head above water and he is living there with his new wife and her 4 children. I cannot afford to take him to court over this. What on earth can I do?
Desperate
- 1-Mar-19 @ 3:14 PM
I left the FMH in Sept 2011. My ex and our 2 children still live there (they are 14 and 8). She remarried in 2013, I am about to remarry. My name is still on the old mortgage which is in heavy arrears. The building soc have taken the account to litigation dept on numerous occasions but it's never been repossessed. Am I able to force a sale of the property to remove my name from the mortgage? If not, I have a lot of debts which I struggle to make payments on; could I declare myself bankrupt instead, and would this effectively remove my name from the mortgage debt?
Crosspatch
- 18-Feb-19 @ 5:23 PM
I left the my home 10years ago now due to a violent husband I have lived with my daughter since , my aunty paid most of the mortgage off ,and my husband as been paying the interest only mortgage , now my daughter as got a family of her own now ,and i need to move out, but my husband will not leave or sell our home saying i have no rights now as i have moved out ,i dont know what to do .
Jay S
- 17-Feb-19 @ 5:56 PM
I'm divorced and my ex husband is in prison for Crimea against myself and children he is in for over 30 years and I an not allowed to contact him . He won't agree to sign the sale of the house papers , is there a way i can get him off the mortgage or finacialy divorce him or get a court order with out a solicitor as I can not afford one
Grumpy
- 12-Feb-19 @ 5:22 PM
I'm divorced and my ex refuses to sell our jointly owned property, he lives there and barely pays the mortgage to which he is responsible for whilst living there (agreed with his solicitor) until sale of property
My wife and I are separated and she lives in the family home with my two children and her new partner. I have been paying the full mortgage for 16 months since our split. She won't let me buy her out neither will she move or sell. I don't want to be on the mortgage but she can not buy me out. Can I force a sale and what are my options as I am living with my mother and can't afford to move on because of the amount I'm still paying.
GloveBox
- 27-Jan-19 @ 5:37 PM
my wife and i are divorced and the court order we put our house up for sale this was august 2016 we did this and we did not get a offer near the price she lives in the house our kids our now adults she has taken the house off the market and now refuses to sell it even though the divorce judge order it in the judgement I am still paying the mortageagain order by the judge what can I do and what would be the cost
wildthing
- 13-Jan-19 @ 10:38 PM
me and my wife have split up we have 2 kids. can I sell or buy our marital home. wife doesn't want to move out or remove my name from mortgage. she owns another property. I want to know if I have rights or am i entitled to anything. thanks stuart
mag00
- 22-Nov-18 @ 11:39 AM