What is a Typical Visitation Award?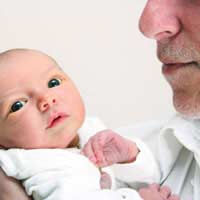 Q.
My partner and I have recently split up and we are now constantly arguing over the contact he should have with his 4-month old daughter. I have two older children from a previous relationship; he has no other children and he has never lived with us.
I have suggested that when his daughter is older he can have her overnight on alternate weekends and on Wednesday nights. More than that, I feel would be too disruptive to both her and the other two children. We both work full time.
As she's still very young I'm happy for him to have her for a few hours each weekend and to see her at my home as often as possible but don't think overnight is appropriate. He feels this still isn't enough and wants a specific date on when the overnights can start. I don't really want to go down the legal route but feel that I am being more than reasonable given her age and his lack of experience.
Is this the case or would he get more if it went to court? What is a typical visitation award?
(KW, 29 September 2008)

A.
The unfortunate thing is that it appears unlikely that you and your ex will be able to work out a visitation solution between yourselves, as your positions are a bit too far apart.
Although you don't want to take the legal route, there might be no alternative. However, rather than going to court, it's quite possible that your solicitors will be able to negotiate an agreement, which would take some of the sting out of things.
Whether a "typical" visitation award exists for very young children is up for debate. A lot depends on the needs of the baby and the parents.
Let's look at a worst-case scenario that the two of you end up having to go to court. In that instance, a number of things will be taken into account.
Normally the will of the child is important, but in this case, of course, that's impossible. The court will also look at the needs and emotions of a child during the period of contact, and how well they can be met – with a baby that becomes especially crucial. Also important is whether there's the possibility of any harm coming to the child in a period of unsupervised contact.
But the court doesn't reach this decision in a vacuum. It takes into consideration a report from the Children and Family Court Advisory and Support Service officer, who will interview you, your ex and others in order to determine what's best for the child and for all others concerned – note, however, that the child is placed completely at the centre of things.
You obviously have no problem with you ex having contact with your daughter, so that's not the issue here, which it usually is when a case goes to court, and your concerns appear to concern the safety of your daughter.
Although it's often the place of last resort, having a court establish parameters of contact, including when overnight visits can begin, might serve as the best solution, since it will be imposed on you both by an outside authority and can stop resentment between the two of you later. If needs be, you or your ex can later apply to have the provisions of a Contact Order altered.
You might also like...
My ex and I separated 5 years ago. We were never married. I had moved to Spain with our two children 6 months before we separated. We have a Spanish court order that sets out visitation and maintenance payments for the kids. I have sole custody. He married shortly after separating and has been very hands off in the upbringing of the kids visiting just 24 hours per month and having them at his place in the UK for a week at Xmas and 2-3 weeks in summer. I am now considering returning to the UK and would like to understand how maintenance and visitation would be worked out in the UK. Will the existing Spanish order still be valid or will we need to get a new one? If agreements out of court are not enforceable, how does one ensure each party holds its side of the bargain? My concern is that my ex has been very irresponsible when it comes to expenses and general tasks around raising the girls. I am the onefinds schools, activities and organizes logistics to and from each. He refuses to participate in any of this even though he could. He further refuses to contribute a fair amount of the expenses (hence why we have the court order) and instead fixes his contributions according to his own criteria without necessarily bearing resemblance to the expenses. He has a very good salary, so money is not an issue. I am worried that once I am back in the UK he will lower his contributions. He will also increase his contact but without taking any additional responsibility. I.e. I will be the one juggling work with getting the girls to school, friends, activities and the rest while he ocassionally takes them to the zoo . An unenforceable agreement is of no interest to me. So what are my options? I am also aware that the CSA generally manages maintenance payments and they are fixed around salary but also amount of nights with the non-resident parent My worry here is that he will pay for the zoo tickets and sandwiches and consider that his contribution while I am left to pay tuition, clothes, food, entertainment, etc etc (that was the situation before the court order). Thanks very much for your response.
catinahat
- 15-Aug-17 @ 2:50 PM
Me and my ex wife split 6 years ago. We divorced about 6 months ago. Our house was sold and what little equity there was, was shared equally. I can't get a clean break as my ex would never agree. I'm 52 in April and want to cash my pension in. Can my ex claim any of this even though our children are adults? I think her pension is worth a lot more than mine. Mick. 07/02/17
Mick
- 7-Feb-17 @ 8:10 PM
My partner and I split up three years ago after him having an affair.we own a house together which I left as he refused.I paid the mortgage for the first 10 years of living there however he now pays the mortgage due to the split.I have been asking him for probably 2 1/2 years to buy me out, sell the house or even just let him have the house, he will not agree to any of these things.I am at the point where I just want to sever all ties to him.Can I force him to sell?
Suze
- 21-Jul-16 @ 1:29 PM