Short-Term Divorce Plan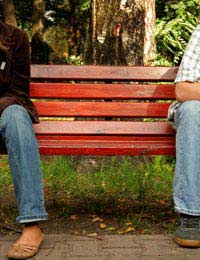 Divorce is a complicated and emotional process. Maintaining good communication with your partner and keeping your children content while negotiating the details of your break up can be very stressful. Here is a list of immediate concerns you should plan for if you are about to divorce.
Communication With Your Partner
The whole process will be made a lot easier if you and your partner keep lines of communication open. The courts will always try and encourage a couple to come to an agreement between each other and only make rulings if necessary.
Sit down with your partner and make a list of the issues that need to be resolved regarding property assets, child residency, visitation and maintenance payments. If you find this difficult, you and your partner may want to consider seeing a professional mediator, who will guide you to a mutually beneficial agreement. If you are eligible, mediation can be free.
The more you and your partner can maintain open and honest communication, the less traumatic the whole event will be for yourselves and your children. If possible, talk with your children and answer any questions they may have. Their lives will change as a result of your divorce, so give them the information they need to understand what is happening.
What Happens to the Property in a Divorce?
If there are children, they will usually stay with the mother in the family home. If the father is the main earner, an agreement should be made regarding maintenance payments. If there are no children, a court would usually divide assets including property equally between the couple.
If the property is not in your name, recent laws enable you to have it re-registered as such. Even if it is in your partner's name, courts can order for the partial or complete signing over of the house to you, depending on your circumstances. Discuss all of this with a solicitor. Depending on your circumstances, you may be eligible for free legal aid.
Keep up your payments and avoid threatening to sell the property before you have gone through the divorce procedure. If your partner is attempting to sell another property they own, discuss it with a solicitor. There are steps you can take to prevent this from happening before you reach a settlement.
Money and Divorce
Keep spending to a minimum and put your family's needs first during a divorce. The divorce process can be costly and often results in both partners having less money to spend. Make a budget plan for the divorce and for the long term. This will include what your assets are and how they shall be divided.
Any of your partner's debts to which you are a co-signatory, you are also liable. If your partner is running up debts, you can ask your bank to require joint signatures for withdrawals, freeze the account, or cancel or lower the limit on a credit card. Discuss your options with a solicitor first.
As far as the courts are concerned, there is no 50-50 rule about the division of assets when a couple separates. They focus on the couple's respective earning potential, the family's needs and then make what they think is a fair division. If there are children involved, they will be the primary concern.
Pensions can often be the largest financial asset in a divorce. Even if your partner is the sole earner and it is in their name, it will go into the pot of assets divided fairly between the couple. Pensions are valued at their current cash equivalent transfer value.
Tax, Benefits, Insurance and Divorce
When you separate, the Inland Revenue will consider you both as separate individuals, therefore if there is only one adult in your house you can apply for a 25% reduction in council tax. If you are on a low income, you may also be eligible for benefits. Discuss this with a solicitor and remember that the Child Support Agency automatically becomes involved if you receive benefits.
Keep up your insurance payments. You may want to cut costs in the short term, but you could regret this later. Try to keep things as normal as possible while you both adjust to your new circumstances.
You might also like...
This article has been a fantastic read. I was hoping to get some advice regarding my circumstances. I've been with my wife for 9 years. We've lived together in her home (inherited from her mother) for 6 years, but have only been married for 18 months. My wife wants a divorce, and wants me to leave with nothing. Originally she offered me £40,000 which she was going to raise through remortgage (the house is fully owned and there is no mortgage or rent on it) but she's now withdrawn that offer and says I should walk away with nothing. The house is worth £200,000. My wife also earns more money than I do, as recently I have taken a pay cut to pursue a new career. Would I be entitled to anything? Or is my wife correct in that I should walk away empty handed!
Jupiter
- 8-Jan-19 @ 10:06 PM