Dealing With Your Lawyer
By: Lorna Elliott LLB (hons), Barrister - Updated: 10 May 2017
|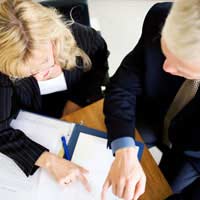 In the heat of a contested divorce, it can be very tempting to telephone your lawyer to share every development with them. If you're not used to dealing with lawyers, you may think that they need to know every element of each exchange you have with your ex during your divorce. While it is important to be honest and open with your lawyer, some people develop a habit of 'offloading' on their legal team. An unwanted side effect of this is that if you're paying your lawyer by the hour, all those phone calls will have been added to your bill and your divorce could end up costing you a lot more than you had expected.
Some lawyers will send you interim bills each month for the work they have done on your case so far. In some instances this will be standard practice, whereas other lawyers may be trying to tell you that you are racking up a huge bill - enabling you to decide how often and why you contact them.
Fixed Fees
One way around this is to agree a fee with your lawyer for your divorce up front. That way there can be no nasty surprises. If your lawyer needs to do more work on your case than had originally been predicted, you can agree fees for the extra work then. There is, however, always the temptation with fixed fees for the lawyer to do the minimum amount of work necessary on your case – and some divorces start being uncontested and end up extremely contentious and messy. If this happens, your fixed fee could seem like a distant memory when you finally get your bill.
Are There Any Other Costs?
If you use a fixed fee service, this will generally cover all the work up to and including your Decree Absolute – as long as you have a straightforward divorce. On top of the fixed fee you will generally have to pay the court fees. Filing the petition costs £300, and there is an additional fee on obtaining the Decree Absolute of £40. If you need a copy of your marriage certificate, this will be an extra £.7.50 - £10, and you will have to swear your affidavit in support of the divorce petition which may cost you approximately £5 - £10.
Fixed fees don't generally cover work that has to be undertaken if your spouse decides to defend the divorce, or files a cross-petition (i.e. has their own grounds for divorcing you.) If your spouse refuses to acknowledge service of the divorce or, less commonly, there is trouble tracking them down you may also need to meet the costs of hiring a process server to serve papers or a tracing agent to find him or her.
Work Relating to Your Finances
It is normally the case that you will have to resolve all the financial aspects of your separation, and any issues over the children, before you apply for your Decree Absolute. This work is usually not included in the fixed fee. It may be possible to negotiate a further fixed fee for the cost of undertaking this work, otherwise it will be carried out and charged under the lawyer's standard hourly rate. Some firms offer a reduced hourly rate for this kind of work if they have undertaken the other aspects of your divorce for you.
Can I Make My Ex Pay For My Legal Costs?
It is possible to ask for a court order that ensures that your spouse makes a contribution to the costs of your divorce. This may cover all of your costs, or just some of them. If your spouse then fails to pay what the court has ordered, you may have to pay for enforcement proceedings against your spouse to recover the money.
You might also like...