Changing Your Will
By: Lorna Elliott LLB (hons), Barrister - Updated: 14 Jun 2015
|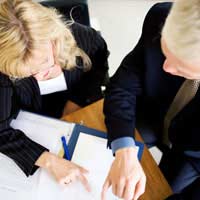 For those of you who made a will before you got married, you may not know that the effect of your marriage invalidated the entire will. Once you get married, the pre-marriage will doesn't apply and if you had died during your marriage you would then have been treated as intestate.
Conversely, the effect of divorcing your spouse doesn't have the same effect on a will that you made while you were married. If your ex is named as the executor or trustee of your will, then on the grant of Decree Absolute the law treats your spouse as though they effectively died on that day. If you do not change your will and name a new executor, you risk your estate being dealt with under intestacy rules.
Make it Legal
Ask the solicitor who worked on your divorce if they will also be able to change your will for you. It may be cheaper for them to do this for you, or you may be able to negotiate it as part of the cost of your divorce.
When Should I Change My Will?
You do not have to wait for your Decree Absolute to come through – you can make your new wishes clear before this.
Do I Need a New Will?
You may want to revoke your will entirely and draft a new one. If you do this, try to ensure that you have destroyed all copies of your previous will, including the one in your solicitor's possession or at the UK Will Register.
Name an Executor
Have a good idea of who you want your executor to be. An executor can also be a beneficiary. If your children are adults, you may wish to nominate one of them as an executor.
Your Assets
Make a list of all your assets as they currently stand. Although you may feel as though there is little to pass on at the moment, this is likely to change.
If you have heirlooms, or items of sentimental value, that are not valuable but mean a lot to you and your family you should name the intended beneficiary in the event that there is any dispute after your death.
Keep Loved Ones Informed
Tell someone you can trust about your change of will. It may be very upsetting to young children, so they should be spared another emotional upheaval after a divorce. You don't have to go into specific details with anyone, but it can help if you let someone know which solicitor's office holds your will, or where you keep your important documents. Should something ever happen to you, it will be important for your loved ones to know what to do.
What if My Ex Doesn't Change Their Will?
If your ex-spouse doesn't change their will after divorcing you, you won't receive anything by virtue of the decree absolute. If you were the only beneficiary, the effect will be that your spouse will die intestate. If you and your ex-spouse had children who were also named in the will, they may inherit what was originally intended for you under the will. You may change your mind later down the line, or you may remarry, but it's important to ensure that your wishes are accurately reflected as they currently are.
You might also like...
@Teezerob - you would have to contact your solicitor directly in order to inform them that you have changed your mind. Your legal representative will advise you what your options are.
DivorceResource
- 17-Jun-15 @ 10:14 AM
I made petition to stop my divorce. I do I withdraw that petition as I want the divorce to go through?
Teezerob
- 14-Jun-15 @ 9:10 AM