The Blame Game: Dealing With Critical Relatives
By: Lorna Elliott LLB (hons), Barrister - Updated: 27 Feb 2017
|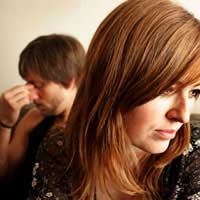 During a divorce or separation, it is very easy for the people closest to you to point the finger of blame when it's least wanted. From comments like: 'in our day, we just put aside our differences and got on with it', to 'we could have told you it wouldn't last' it can be the last thing that you want or need to hear. When a couple separate, emotions are raw – and while you will undoubtedly be on the receiving end of all sorts of well-meaning advice, and in some instances harsh criticism, it is really important to remind yourself that it is your separation, and not theirs.
People can be very quick to make judgment calls on other people's lives. Some genuinely feel that they are offering helpful advice, but the truth is no one other than you or your partner really knows what it was like to be in your relationship. There are, however, certain strategies that you can adopt in order to cope with critical relatives interfering with your divorce or separation.
Understand Why They Are Being Critical
Although you may feel like lashing out if someone criticizes the way you're handling the break up of your relationship, it's far healthier to take a few moments to consider what their motives are. It's important to remember that people who are hurting hurt others, and the break down of your relationship has affected them too. If you can understand what has hurt them about the situation, you may begin to empathise with them.
Consider What They Are Saying
It is easy to cast aside critical comments about your relationship. Often, though, relatives may be offering you an insight that could help you. Although the criticism may feel nasty and hurtful, the purpose of what is actually being said could help you to see things from another perspective.
Stand Up to Your Critical Relative
Most of us would rather brush off criticism and not rise to it, to avoid friction, but standing up for yourself is nearly always the best option. If you are able to tell the relative who has criticized you how they have made you feel, you take control of the situation. If you stay quiet, however, you run the risk of becoming bitter and losing your temper at a later time.
Look After Yourself
Try not to dwell on what the relative has said about you. If there was an underlying truth in what was said- then it is fine to learn from it but you must then move on. Don't labour over harsh words, but concentrate on your good aspects – your strengths, talents and qualities as a person.
Guard Against Future Criticism
Sometimes, it can be easy to offload about your relationship breakdown. In these circumstances you may give out too much ammunition that enables your relative to criticize you further. Be on your guard against this – and if you need to talk to someone, why not speak to a trusted friend instead?
Remember, your critical relative won't change immediately. You can, however, change the way that you react to them and how you interpret their criticism of you. If there is nothing to be learned from what they say, disregard it. If there is a meaningful truth underneath, try to consider it without beating yourself up!
You might also like...