Hiring a Solicitor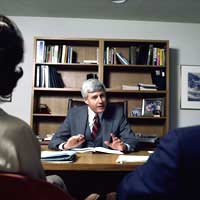 Whether you are divorcing or signing an informal separation agreement, you will need a solicitor to check through your documents, make sure you are aware of your rights and responsibilities and protect your future. Many firms either specialise in family law or have family and matrimonial law solicitors who are trained to offer advice on divorce. An initial conversation should cost you nothing and enable you to decide if you want them to represent you or not.
Why Hire a Solicitor?
If you are very well organised and your case is straightforward – e.g: your partner is not contesting the divorce – you may only need a solicitor to advise and check through your documentation. If your case is more complicated you will probably find that you need ongoing legal help. This might take the form of advice or representation at court throughout the process. Work out in advance what your needs are and choose a solicitor who meets them.
Many problems that commonly arise during the divorce process can be solved by consulting a solicitor at the beginning. Options you may not have considered will be suggested. Your solicitor will want to talk through matters in detail with you so you can better decide what route to take with your partner. Having a professional on your side who is fully aware of your legal position can be a big advantage.
Remember that a good solicitor will give advice and represent your interests but ultimately all the decisions are yours. They are there to make sure you are aware of the implications of your decisions.
The Initial Meeting
When you first meet your solicitor try to make sure you are as well-informed about your case as possible. You should have a good idea of what your preferred terms are and where the sticking points are likely to be. The solicitor will also probably ask you to show them a detailed financial statement for yourself and your family as a whole. The more information you have the better able to advise you your solicitor will be.
How Much do Solicitors Cost?
At your initial meeting you should ask the solicitor to provide you with details of their fees and the working arrangements. Most solicitors charge an hourly rate. This is split into ten, six minute units. To keep costs down try and restrict yourself to emails unless you really need to talk or meet in person. You can also reduce costs by being organised and keeping on top of all the documents.
As the divorce process continues circumstances may change and you may be under emotional strain. If you have a good relationship with your solicitor you may find it helpful knowing you can call them up. Remember that ultimately your solicitor is not there to provide emotional support. Family and friends should be able to do that.
Legal Aid
Many firms offer legal aid to those on low incomes who are eligible for public funding. If you are claiming benefits you will almost certainly be able to get free legal aid. Law Centres also offer free assistance to anyone. Read our article
Legal Assistance
for more details.
Changing Solicitor
Your solicitor may have numerous cases on simultaneously and you could feel they are not giving you their full attention. You might find it hard communicating with them, or feel they are simply not the right person for your case. You might want to change to a male or female solicitor. The firm may present you with another solicitor they think is appropriate, or you might prefer to start anew with another company entirely.
You might also like...
Mike - Your Question:
Hi. I'm married for about 10 years.basicly I had to leave my wife 2 years back because we decide this relationship it wasn't good for both of us.I Have a 7 year old son with I see and pay maintenance every week.Now is just feels is time to make it official and legally divorce.definitly straight forward I just don't know how to start.many thanks With regards Miguel
---
Our Response:
Please see gov.uk site
here
which should help.
DivorceResource
- 4-Jan-16 @ 11:10 AM
Hi...i'm married for about 10 years...basicly i had to leave my wife 2 years back because we decide this relationship it wasn't good for both of us...I Have a 7 year old son with I see and pay maintenance every week...Now is just feels is time to make it official and legally divorce...definitly straight forward I just don't know how to start...many thanks With regards Miguel
Mike
- 3-Jan-16 @ 8:30 AM