Types of Application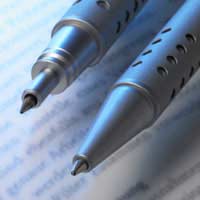 When you divorce there are a number of legal documents that need to be presented to the court. Depending on the details of your case and whether your divorce is contested or not different forms will need to be completed. You should consult a solicitor before submitting these forms to make sure they are legal and that you have been made aware of all your rights and responsibilities.
The Divorce Petition
This is the first document you will need to present to your partner and the court. It describes the grounds for divorce. The five grounds used for divorce in England and Wales are adultery, unreasonable behaviour, desertion, two year's separation, or five year's separation. After two years apart a couple can divorce if both consent. After five years apart no consent is needed from the other partner.
The petition can be sent to your partner for agreement before you submit it to the court. Your partner may disagree on the grounds or decide they want to contest the divorce. Emotions will probably be running high at this point, but it is always better to make some kind of agreement between yourself and your partner before you end up in court. It will save you time, money and grief. Again, show it to a solicitor before handing it in.
Statement of Arrangements
If you have children then you will need to complete one of these as well. Form D8A – Statement of Arrangements – describes your child's current situation, including their schooling, residency, who cares for them and any maintenance payments. It also includes a proposal as to their future care.
As with the divorce petition, this document should ideally be read and agreed with your partner before submitting it to a court. Your partner can also write their own separate Statement of Arrangements. If possible, try to draw up an informal agreement between yourselves which you can base a legal agreement upon. If you are having trouble agreeing, think about seeing a professional mediator. Also make sure you consult a solicitor so you are aware of your rights.
Application for Ancillary Relief
This document – Form A – covers division of property, pensions and other capital and also any maintenance payments. Again, it may be to your advantage to go through the details of how you want to divide assets and payments with your partner beforehand. You will also each need to submit a financial statement – Form E – to the court along with this application.If your partner is withholding information about their finances the court can demand they make a full disclosure. Also remember that childcare and signing over of property are often tied. In many cases, the partner who is awarded residency of the children also keeps the family home.
The process of deciding on ancillary relief can take time. Also, from the first hearing through the financial dispute resolution appointment to the final hearing, you and your partner will be asked to provide regular updates on your financial circumstances and costs – using Form H.
Interim Financial Order
The court process usually takes five to eight months to complete. It is often longer although usually it should be under one year. You or your partner can, at any time before a final order is made, apply for an interim financial order. This is a temporary measure to ensure financial needs are met. If children are involved the court will often consider what the Child Support Agency would decide.
You might also like...
Linda - Your Question:
I would like to seek an advice about child arrangements, marriage and financial implications upon separation
---
Our Response:
You can see more via the CAB link
here
, which should help you answer your question.
DivorceResource
- 11-Dec-17 @ 1:01 PM
i would like to seek an advice about child arrangements, marriage and financial implications upon separation
Linda
- 11-Dec-17 @ 7:45 AM