The Principles of Safe Dating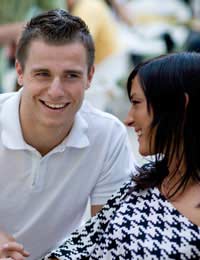 It's difficult and daunting to get back into the swing of dating after divorce. It's not even so much the idea of going out with someone, but actually finding someone you want to go out with. When a relationship ends, friends tend to become divided, and it can be difficult to meet new people and be open when you're recovering emotionally from the split – which takes a lot of time.
But when you do dip a toe back into the dating world, things can be much scarier. Something that's very important, especially for women, is safe dating. When you're meeting someone, for dinner or even a drink, you have to be very careful these days.It doesn't matter whether the person you're going to see is a friend of a friend of someone from a dating agency or discovered through online dating, you need to take precautions.
The Basics Of Safe Dating
Obviously, the basic rules of safe dating change the more you get to know someone. But for a first date (even if it's someone you already know) there are safe dating practices you should have in place. This is especially true in the case of a blind date or someone you've met through online dating or a dating agency, where you've never physically met the person before. Bear in mind that these rules aren't restrictive, they're for your own protection.
First, and this is vital, tell a friend where you're going and the name of the person you're meeting, as well as the time. When you arrive, phone or text the friend to tell her you're there.
Make sure you're meeting in a public place, like a restaurant or a barYou should also arrange to text here either 30 minutes or an hour later, just to let her know you're safe, and also when you leave.
If your date starts acting strangely or making suggestions you find offensive, leave immediately.
You need to be careful with your drinks. It's very easy to slip a date rape drug into a drink. You should never leave your glass unattended, even for a minute. That might seem like an excessive precaution when dating, but bad things do happen more often than most people realise.
At the end of the date, don't accept an offer to walk you back to your car (if you've been drinking, you should have used a taxi, anyway). Nor, if you're offered a lift home, should you accept, or accept an invitation back to his place, at least not on a first date.
You should have made sure not to give your date your landline number and certainly not your home address. There's plenty of time for both of those as things develop.
Be sure to call your friend when you arrive home to say you're safe (and alone). Of course, it's also a good chance to discuss the date itself and how it went!
Naturally, these rules can be relaxed somewhat on second and third dates, if they happen, but you still need to be cautious and let someone know where you'll be and with whom. You might be all grown up, but dating safety, unfortunately, remains very important.
You might also like...