When to Start a New Relationship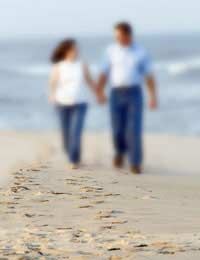 Divorce is traumatic. Even the most amicable split isn't easy. You've lost what's really a major part of your life, and you need to grieve for that. After that you need time alone – at least most people do – to come to terms with yourself and also the future. A new relationship, and the idea of dating after divorce can seem a long way away.
But things do change, and eventually you are ready for something new. How long should that take, though, and when do you know the time has come?
Recovering from Divorce
There's no hard and fast rule about how long it takes you to recover from divorce, that's something all divorce advice will tell you. It's dependent upon too many factors – the type of person you are, what the marriage was like, how it ended, how long it had lasted, and whether the divorce was acrimonious or not.
One thing's certain, though, it's not going to happen overnight. Those who start dating after divorce has just become final, or while separated are often on the rebound, doing it for company or to feel wanted more than anything. They might claim the opposite, but they're not in an emotional state to undertake a proper new relationship.
It takes time. There are periods of depression and anxiety about being alone and the future, time spent analysing the marriage and what went wrong and why. That reflection is completely natural, it's all part of the healing process everyone has to go through. If the marriage has been bad – abusive, say – then that healing process will inevitably take a lot longer before you can trust someone else; indeed, for some that time never comes.
The shorter the marriage, the faster the recovery from the divorce, seems to be the general rule, although exceptions exist, of course. But you recover from even a long marriage. One rule of thumb, although never proven, is that it takes either the length of the marriage or two years to recover properly, whichever is less. After two years, certainly, you've had time to carve out a new life and come to terms with both the past and the future. If there were children involved in the relationship, you've had time to establish a new relationship with them.. At that point you're ready to move on.
How do You Know When You're Ready for a New Relationship?
A new relationship doesn't happen overnight. As good divorce advice will tell you, don't jump into one immediately you begin dating after divorce. In fact, the best advice is not to date at all for a while after divorce, but simply become used to being yourself, by yourself. From that base you can begin to date casually.
You really shouldn't fall into a new relationship for quite a long time after divorce. Only then can you be sure you're not becoming involved on the rebound. Relationships can be tricky ground. They happen, eventually, but don't try and force one, let it evolve naturally.
Ultimately, you'll know when you're ready for a new relationship after divorce. The clouds will part, you'll feel lighter and more alive. It can take a while, and there might be many dark days before it arrives, but it will happen.
You might also like...