Settlement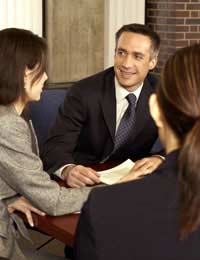 You will almost certainly have read about certain divorces which have taken only a matter of weeks to complete from start to finish. Usually this will only be possible when the couple have agreed to an amicable dissolution of their marriage and where they had very few assets, if any at all, to divide and also had no joint debts or any children.
Why it's Useful to Seek Legal Advice
It's a shame to admit but, no matter how much you both strive for an amicable divorce at the outset, if you have any assets, it's almost certainly going to boil down to money towards the end and even though the dividing up of assets can still be conducted without animosity, it's important that you seek legal advice when it gets to this stage if you haven't done so already. In having a DIY style divorce, you may save yourself some money in the short-term by not having to spend hundreds of pounds on solicitor's fees but you could end up losing thousands if you've overlooked certain assets which you might have had a claim to.
How a Financial Settlement is Worked Out
There can be many aspects to a financial settlement and it's not always just about dividing up the equity from the sale of your home. Things like
pensions
can be extremely valuable and there may be many other assets which you might have a claim to. Therefore, it's important that any settlement figure is reached once everything that can be considered an asset is worked out. With everything in the pot, it also makes it easier to consider trading off one of the assets for another of equal value as opposed to complicating matters by dividing up each asset individually. To lump everything together also simplifies things when it comes to children and the arrangements which have been put in place for them. Contrary to popular belief, and especially where securing the future of children is concerned, a settlement is very rarely as simple as a 50-50 split.
Child Maintenance and Welfare
Where children are concerned, there can be no 'divorce' as far as financial obligations go. These payments will be agreed to either through the court or via the CSA if an agreement cannot be reached between both mother and father and will usually be paid weekly or monthly until the child or children reach 17, although you may also have to pay longer if they go on to certain types of further education. Although some people will be reluctant to get involved with the CSA, it's important to remember that, if you are a high earner, the courts can often ask you to pay more than the CSA would.
Spousal Maintenance
This is never a cut and dried issue. It will very much depend on the needs of each person in terms of having enough money to make ends meet and often involves working out the projected expenses of each separate household. There might be child care costs, for example, if one partner is working full-time and many other things can affect it. Spousal maintenance can always be varied up and down by the court. It could be that the payer loses their job and simply cannot pay the agreed level of maintenance until they find another. It's also useful to know that the payment of spousal maintenance ends if the receiving partner remarries but not if they're just cohabiting.
Inheritances
Very few people are aware that an inheritance on one side of the family can also be a valid asset which can be added to the pot and shared by the partner you're divorcing. Supposing your parents have died and have left you a financial inheritance but your ex's have not yet passed on. Then it might seem unfair if he/she is entitled to a portion of your inheritance, especially if it's remained untouched since your parents died but it is often considered to be just an asset which must be thrown into the pot with everything else. It is sometimes possible to keep hold of your own inheritance for yourself but only in cases where your other half would not suffer any financial hardship if you did that and that can often be difficult to prove so inheritances are always at risk even if you were the sole benefactor in your parents' wills in cases where the other spouse might find it difficult to make ends meet. In that scenario, where the money originated from tends to have less significance.
The Clean Break
In cases in which the value of the assets is a considerable sum, an agreement can often be reached whereby a lump sum is paid out by one partner to the other and then no further payments would be necessary. This is known as a 'clean break' and, whilst it enables both partners to get on with their lives, it's only really an option if there is significant assets with which to barter.
There are variations of the clean break where regular maintenance is paid for a determined length of time at which point payments can be stopped. Often the courts will look at each spouse's ability to earn a liveable income and things such as any plans one or both of them may have to remarry.
However, given just a brief summary here of only a number of aspects of a financial divorce settlement, you can soon see why a divorce very rarely concludes quickly and why legal advice is highly recommended to ensure that you get what you're entitled to.
You might also like...
Divorced in 2014. I'm now going through FDR for settlement of assets. Solicitors fees so far amount in excess of £2000. I am having great difficulty living on my pension. What are the problems if I dispense with my solicitors and conduct the next hearing in court on my own. I need advice of what to do if I go it alone. My wife is conducting her own case and seems to be receiving more sympathy from the Judge. Help!
Ted
- 15-Jan-16 @ 10:41 AM