Finding a New Home after Divorce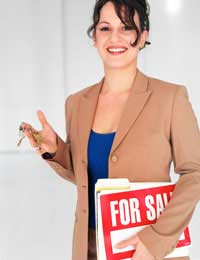 When couples divorce one of the partners must find a new home. Whether this becomes a necessity after the decision is made, or if moving out is the catalyst for a divorce, someone must pack up and reside elsewhere. Family and friends may be able to provide temporary shelter, but ultimately a new home will need to be independent and selected specifically for the wants and needs of the individual who will inhabit it. To this end, many variables must be considered when finding a new home.
Financing a New Home
Perhaps the most important variable to consider when finding a new home is one's finances. Not only will an individual need to know if (s)he can afford to buy a new home or if (s)he will need to save up a deposit while renting, but (s)he will also need to know how much money can be spent on the mortgage or in rent per month. This can be tricky while divorce proceedings are still going on since a couple's finances may not be decided yet. For this reason renting is often a better option and many landlords will accept tenants on short leases of less than a year. Finding such a landlord will be an advantage if an individual expects to move once the divorce proceedings are complete and his or her finances are confirmed.
Choosing the Right Location
The location of a new home is also important. At this point an individual can be fairly greedy and select a site closest to where only (s)he must spend the bulk of his or her time. Relocating closer to the office or to the homes of friends and family usually holds a certain appeal, though if children will be living with or visiting the individual then it will be important to keep in mind their activities as well.
Thinking in terms of the commute to their schools, their extracurricular activities and their friends' homes will be important while finding a new home to avoid killer commutes at a later date. Discussing possible new locations with the solicitor handling the divorce may also be important, as (s)he may be able to advise if any areas (such as leaving the country) are off-limits, or if any areas will be particularly worthwhile.
Getting the Right Amount of Space
For some people a roof over their head is all they really need, but for others finding a perfect space is critical. When finding a new home due to divorce, again an individual can be fairly greedy about his or her new space. If a home office is needed, or a sun room was always wanted, now is the time to find one. Likewise if the family home always contained a dedicated dining room but the individual will not be hosting formal dinners, now is the time to banish it from the list.
If children are involved their sleeping arrangements will also need to be taken into account but this may not necessarily mean separate rooms for each. Daybeds can transform a living space into a sleeping space when needed, and bunk beds allow siblings to comfortably share the same room. Deciding on the purpose of each room, and the type of furniture which will decorate each, will allow individuals to see the potential for multiple uses for the same space.
When a couple decides to divorce, one of them usually must find a new home. This may be easy or it may be difficult, but there are three variables that must be taken into account during the search: finances, location and space. With these three variables understood, finding a new home will be much more efficient.
You might also like...
I have a Financial Order that the former family home must be sold and the proceeds split.I have a buyer for the house but due to lockdown I haven't been able to find alternative accommodation.The thing is the value of the house has gone up about £60,000 but ex just wants house sold.I want to re-market house for a better price but ex has refused and his solicitors are threatening me with Enforcement Action.I want to insist house is sold for the higher amount.Ex argues I am just delaying the sale of the house.Any suggestions as ex's solicitor is totally impossible to deal with.I gave up with my solicitor who said just leave the house.
Halfpass
- 17-Feb-21 @ 8:01 PM