Staying Together Out of Fear
By: Lorna Elliott LLB (hons), Barrister - Updated: 11 Sep 2012
|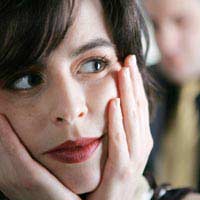 While nearly half of all marriages end in divorce, a greater difficulty lies in the number of marriages that stagnate because the people in them don't know how to make them better. So many people remain in joyless marriages because they are too scared to do anything about it, and this essentially comes down to being afraid to speak their minds. Nowadays, people seem to forget that marriages that work are hard work! It takes effort to keep things alive in a relationship. The thing that is most likely to prevent us from changing anything in our lives is fear.
Why Are You Scared?
People are often too scared to share their true feelings with the person closest to them. That could be the fear of breaking up their relationship, losing material goods, or what would happen to their children. If we allow fear to govern our lives, we cannot move forwards and develop as people.
Fear comes in many guises: from fearing the split itself, and the fall out during and after a divorce; the fear of being alone; or avoiding having to face up to the fact that there are problems in your marriage, such as a lack of respect, passion or intimacy. If you stay together under these circumstances, resigned to your fate, then it is very likely that you are letting fear govern the decisions you make. These kinds of people never consider divorce but are certain that they will never be able to improve things themselves. If you allow yourself to live within this mind-trap, you will never be able to make any changes.
The Fear Fallacy
If you find yourself stuck in your marriage in this way, the first and most important thing to do is address your fears, head on. If you are able to confront what scares you about divorce, you can choose whether or not to stay in your marriage. Once you realise that you are staying out of choice rather than fear, you can begin to work on your marriage. Conversely, if you are able to conquer your fear of divorce you may then be able to find the strength to leave your marriage.
It is important to realise that the way that you perceive your partner is governed by your own emotions. One of the strongest emotions is anger. If you are trapped by fear in your marriage, your anger is likely to be the driving emotion when it comes to interaction with your partner. If you are able to unblock the fear that traps you, you remove the hopelessness that fuels that anger.
Making Choices
Whatever you choose to do in your marriage, conquering the fear that holds you back gives you a clearer perspective on the reality of your life. Fear should not be your guiding emotion. You need to ask yourself how much happiness you deserve in your life. This is not a selfish question – rather that foregoing your own happiness will leave a lasting impression on your children whose own self-esteem may suffer as a result. In order to find happiness and hold on to it, you must first discover what scares you the most and work on confronting it.
Getting Over Fear
Have you ever heard the expression, 'cheer up, it might never happen'? In nine out of ten times the fears that we experience are of things that 'might' happen – but never do. Fear is created by your imagination, in most instances. If you spend your entire life worrying about the future, you are neither living in the present nor hoping for a good future. It is possible to change your thinking patterns so that the fears we imagine to be true are no longer holding us back. When you find yourself thinking fearful thoughts, see whether you can change them into something positive. This might be hard to begin with, but if you can learn to choose your thoughts and discipline yourself not to automatically turn them into something that makes you afraid, your life will be more peaceful. You can then work from a relaxed standpoint from which to make calm and informed choices about your future.
You might also like...