Abusive Relationships
By: Lorna Elliott LLB (hons), Barrister - Updated: 19 Apr 2010
|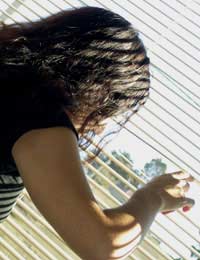 Often a person in an abusive relationship will make the decision to stay with their partner. Friends and family might not be able to understand why, if things are very bad and the person is extremely unhappy, they decide to stay in the relationship. The abuse may be physical, emotional, psychological or a combination of all three. Physical abuse tends to be the easiest to recognise, but often the emotional abuse has the more lasting effect. There are several main reasons for this.
Recognising the Abuse
It is often difficult for people on the receiving end of an abusive relationship to recognise that what they are suffering is abuse. They love their partners and make all sorts of excuses for their behaviour. They believe that whatever happens, it must be because they've done something to deserve it. This may mean that they spend their entire lives walking on eggshells around their abusive partner, for fear that anything will set them off. In other relationships, a victim of abuse may be generally happy with their partner because 95% of the time they have a great relationship – and it's worth suffering the 5% of abuse for the good times. These people often minimize the abuse and pretend that it's not really happening.
Lack of Confidence Needed to Leave
People in abusive relationships tend to suffer from low self-esteem. They do not believe that they would be able to cope on their own. Sometimes this is just because they have grown entirely dependent on the other person of their own volition, whereas in other relationships the abuser will say 'you're nothing without me' or 'you can't do anything for yourself.' Over time, the victim of these kinds of comments will hear and believe these on a subconscious level until they start to believe them consciously. In reality, there is always a way out.
Isolation From Friends and Families
People who are in abusive relationships often become isolated from their family and friends, and do not feel as though there are other options. This is really not the case. Even if there is no-one nearby who can help, there are always shelters for victims of domestic violence and abuse that can accommodate children.
Fear
Abusers in relationships are often extremely insecure. They can be highly manipulative and use all sorts of threats to ensure that their partner never leaves. These can include threats to hurt the family pet, the children, or to kill their partner. In extreme cases this can lead to the abuser killing their partner. If you fear for your or your child's safety, it is vital that you do not delay in escaping the abuse. There is a lot of help and support available for people in this situation.
What You Can Do
The first step is recognizing that the abuse exists and that it is not your fault. The second is accepting that you cannot change the person who is abusing you. If they are able to recognise that their behaviour is unacceptable, then they may be able to change but this is often a long, hard road and not without its own difficulties. People in abusive relationships have to learn to put themselves first, and the needs of their children. An abusive relationship is never the only option – there are plenty of agencies all over the UK who can offer men and women support and refuge. If you have decided to stay with your partner despite the abuse, have you considered the other options? You deserve better, and although things will be scary and strange to begin with, you can and will be a lot happier in the future.
You might also like...