Marriage Guidance Counselling
By: Lorna Elliott LLB (hons), Barrister - Updated: 30 Sep 2013
|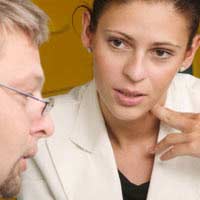 Although until fairly recently people considered that marriage guidance counselling was only for couples on the brink of divorce, it is now generally accepted that counselling can strengthen marriages that are not yet at the stage of last resort.
People can encounter issues and problems in their marriage at all stages, both very early on and after many years together, and for a wide variety of reasons. So if you're thinking of giving marriage guidance counselling a go, what can you expect?
One person can go to marriage guidance counselling on their own, but it can be much more effective if both parties agree to go together. It also demonstrates willingness between the couple that shows a commitment to want to address their issues, even if one – or both- parties are skeptical to begin with.
How Marriage Guidance Could Help You
You can talk about past, present or future relationships; how to improve your existing relationship; the effect of your relationship on your family; to discuss pre-marital issues before you make a commitment; how to deal with marriage breakdown, or even how to make a separation as painless and constructive as possible.
The Counsellor's Role
The role of the counsellor is to allow a couple space and time to air their differences in an unbiased environment. The counsellor will listen, provide input as and when required to, and to allow the couple to see their problems from a different perspective.
Sometimes, it can help to have a disassociated third party explain how the other spouse is feeling: when feelings run high, it can be hard to empathise and see things from the other person's perspective. Most importantly, words spoken during the counselling session are entirely confidential, so you can talk about your problems in complete confidence.
Your First Session
In your first session, your counsellor will listen to both of your points of view and discuss your expectations for the sessions ahead. Sometimes it can be difficult to pinpoint exactly what it is that has caused the problems in your marriage, whereas in other cases the problem can be exact, like an affair.
Whatever the cause, it is important to note that you are unlikely to resolve your problems in one session. As no two couples, and no two relationships are the same, it is difficult to generalise as to how many sessions you will need. In the majority of cases, couples have between 6 and 12 sessions.
How Your Marriage Could Benefit
Over time, you may learn new ways to communicate with your spouse. This can include stopping arguments and beginning to solve problems, avoiding pushing your spouse's buttons, how to stop blaming each other, learning how to disagree, how to raise issues without them turning into arguments and other skills. You may also uncover problems that you didn't realise you had, which could avoid future pain and suffering.
Each partner can also benefit individually from counselling. The skills and insights learned in marriage guidance sessions can increase self-esteem, improve confidence, and strengthen mediation techniques.
You might also like...
We always have arguments with my husband since he started cheatingand I found out bt ever since then never have peace at home and now he is not commucating with me anymore,cooking by himself not eating food I prepare. Pleasehelp
pummy
- 30-Sep-13 @ 9:23 PM
My wife feels she doesn't love me
Bewster
- 26-May-11 @ 9:36 AM