Emotional Support for the Children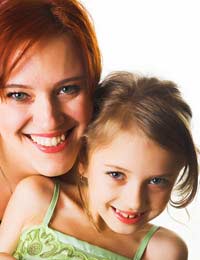 When a marriage breaks down and the parents finally split it can be a traumatic time for all concerned but there are times when, however much the parents try, the children suffer the emotional turmoil and the feeling of being unwanted by the parent that leaves.
It is usually the father that leaves the marital home and unless the mother has been found to be incapable of looking after the children she is the one with whom the children will stay; of course there are exceptions to this rule but more often than not it is agreed that the children should stay with their mother in order to try and maintain some semblance of normality.
What Happens When a Parent Leaves?
It is common when either one of the parents leaves the marital home that the children find themselves in a state of shock and also a state of bewilderment. Most children who are of an age where they can understand what is happening tend to feel that they are in some way responsible for the break up of their parents. Of course as parents who have split up can vouch this is nearly always not the case and the parents' decision to split is in no way related to the children at all. However if the parents do not explain to the children the reasons why they are splitting then they can feel responsible and are often at odds with themselves and their parents as to why.
Changes in Behaviour
Many parents, who have been left with their children after a husband, wife or partner leaves, often notice very distinct changes in their children's behaviour. It can start out as nothing more than a bout of misbehaving but can manifest itself in other activities which may involve vandalism, truancy, petty theft, and general anti-social behaviour.
Some children will become withdrawn and may seek solace in their bedrooms, not wanting to communicate with adults at all and as a result of this their schoolwork will begin to suffer and parents only discover this when school reports are sent home or their attendance is required at school.
Taking Time to Explain to the Children
If you are in the process of splitting with a partner, husband or wife, then it is important to make it clear to the children that this break up is in no way due to them. As we have already mentioned many children without being told the reasons behind the split will deem it their fault and there lies the difficulties that can unfold in months and years to come. If your child – or children – is old enough to understand why you are splitting up; treat them with the respect they deserve and explain the situation to them. Of course it is not necessary to go into every aspect of the reasons for the split but making them aware that they are not responsible and that they are still loved by both parents is a step in the right direction.
Maintaining Regular Contact
Another aspect of emotional supporting your children through the traumas of a divorce is the ability to maintain a regular contact with the children once you have left the marital home. This can be telephoning at night, allowing regular visits and pick ups from school, and spending time with the children at the weekend when it will really be noticeable that a parent is no longer living in the house.
This level of contact makes for a healthy relationship between the parent who has left and their children and helps alleviate any feelings of desertion; it also helps the children to understand that they are still loved by both parents.
Don't Argue in Front of the Children
Last but by no means least is probably one of the most important rules of going through a split with children involved; don't argue in their presence. Arguing not only upsets the parents involved but also upsets the children who, when faced with two adults arguing, will normally retreat into themselves or be asked by the feuding parents, to take sides. It is important that you never ask your child to take sides against another parent; this can only lead to animosity and further upset.
You might also like...