Care of the Children During Divorce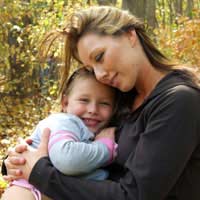 Divorce is an unsettling time for the family unit. The most important thing is to try and cause as little disturbance to your children's lives as possible. If it is possible to do so sit down with your partner and agree on a short-term plan regarding where they will live, who will care for them and any money that needs to change hands.
Let Your Children Know
Take some time to sit down with your children and explain that you and your partner are separating. They may already be aware of it. Depending on their age, you might want to explain why you are breaking up and what it will mean for their future. Take your time and answer any questions they might have. Do not underestimate your child's ability to understand. The more aware they are of what is happening, the better they will be able to cope.
If possible, discuss it all first with your partner. Presenting a united front will give your children a sense of security. If you are having trouble talking, you may want to see a professional mediator. Mediators specialise in helping couples agree on the terms of their separation while maintaining good communication and relationships with the children.
Whether you are separating informally, signing a Separation Agreement or formally divorcing, the more you talk openly with your partner and children during the process, the easier it will be for everyone emotionally.
Where They Will Live
In many cases, if one parent is going to have sole residency of the children, they will also stay in the family home. If you go to court, it is very likely that if they are asked to make an order regarding your property, they will sign it over to whoever is awarded residency. In more than half of cases, the mother is awarded sole residency. Approximately one fifth of cases result in sole residency being given to the father. Another fifth of cases result in joint residency.
If you have to leave the home as a result of violence, Women's Aid will be able to offer you temporary accommodation, particularly if you have fled with children. You will also be eligible for housing priority with your council as a homeless person.
Whether you are suffering from domestic violence, or the home atmosphere has just become impossible to live with, temporarily leaving your home does not mean you lose any rights to the property. Even if the house is in your partner's name and they have been the sole earner, a court can still order the property to be completely signed over to you.
Child Support and the CSA
Both parents have a financial responsibility for their child's well-being when they separate. Unless a parent is on a very low income or receiving benefits, the Child Support Agency stipulates they have to pay 15% of their net income towards the care of the child to the parent the child lives with. For two children they pay 20% and for three children 25%. You can make an application to the CSA before you divorce.
If a court is asked to make an order regarding maintenance support, they base their decision on the guidelines from the CSA. Reductions can be made if the children spend more than 52 nights a year with the absent parent. Bear all this in mind if you are making an agreement with your partner, and consult a solicitor as to your specific situation and rights. Free legal aid is available if you are on a low income.
You should write a budget plan for the coming weeks and months and include every cost you are likely to incur. You may want to cut costs by cancelling payments such as insurance, but could regret it in the long term. Try to keep everything running as close to normal as possible during your divorce.
Tax and Benefits
As a single adult you will be eligible for a 25% cut in council tax. You may also be able to get state benefits. Remember if you apply for benefits the CSA immediately becomes involved.
Child Minders
You may also need help with the care of the children. Ask friends and family, or contact Childcare Link. State funding is also available to pay for a child minder.
Staying Calm
Make sure you are aware of all the implications of your separation and plan ahead. As a parent you will want to act in your children's best interests, but you may find it hard maintaining your cool when talking to your partner, especially about financial matters. Saying sorry and asking to have a conversation again is ultimately preferable to continuing in an antagonistic atmosphere.
You might also like...