Starting a New Relationship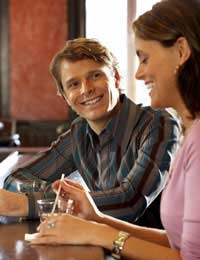 The breakdown of a relationship and a subsequent divorce is usually a very sad time for those who are directly involved. People can experience many different emotions from grief, anger, resentment, loss, fear and many others too.
Although a few people jump into another relationship quickly following a marriage break up, it's not recommended as the motives for doing so are often not thought through carefully enough. But when you think you are ready to move on and open yourself up to the possibility of finding a new partner, it's important to be aware of your own feelings and emotions and to also be open, honest and fair to the other person.
'On the Rebound' Relationships
Those that find a new partner quickly following a divorce are often said to be 'on the rebound' from their previous relationship. Often, they haven't given themselves enough time to get over their previous relationship and to get rid of any lingering feelings which might include loneliness, jealousy, pain etc. which surfaced during their marriage break up. If you start dating too quickly, these feelings will soon resurface and ruin any new relationship so it's better to wait a while until you feel emotionally prepared to open your heart up without any pre-conceived notions of what might happen if you do.
The Healing Time
There is no limit on how long it will take before you feel ready to begin a new relationship following a divorce. However, to enable you to be ready, you often have to go through a process of living in the now, yet coming to terms with the past so that you can plan for a healthy and happy future.
This healing process involves letting your feelings out. Dealing with any sadness, anger, regret you may be feeling can be done in a number of ways. Write your feelings down, read self-help books, talk to close friends or perhaps to a counsellor. Crying, screaming….whatever it takes to let your feelings out will all help you on the road to emotional recovery from the pain of divorce.
Treating yourself to something will also help you start to enjoy life again. It may be a pampering session at a beauty salon or a weekend of go-carting or a day out at the football. Treats now and again or doing something that's different from the normal routine will help you start to turn your mind away from the past and start looking towards the future.
Dump the Baggage and Don't Repeat the Same Mistakes
When you're ready to meet new people again it's common to start thinking things like, "what if this guy's a cheater too?" or "is she gonna hurt me as well?" These kinds of questions fall into the category of what's called 'emotional baggage" and is probably one of the biggest problems divorcees find difficult to overcome. Whether you're a man or a woman, no-one likes to be pre-judged before a person has got to know them, so if you display a tendency to show fear that your potential new partner is going to replicate the behaviour of your ex-husband or wife, you're doomed. They'll soon pick up on this and be off like a shot, regardless of whether or not you're a nice person really. It just means that you're still not ready. Only when you feel that you are willing to fully open up your heart to someone else without prejudice have you any real possibility of finding new love. That said, however, you can do that and still tread carefully and take your time as well.
Similarly, don't repeat the same mistakes. How often have you heard people say, "I always tend to go for lovable rogue types or bad boys". Well, if you do and if they're the type of guys who have let you down in the past, keep clear of them. The likelihood is you're developing a pattern that will keep on getting repeated over and over.
Don't Pile the Pressure on Yourself to Find Someone New
Once you know you are ready to move on, there's a tendency to want to meet 'Mr. or Mrs. Right' as soon as possible but people can be quite astute at spotting desperation and it's a real turn-off. Dating agencies and visiting pubs and clubs all have their place in the dating game but there's always a lot of pressure to live up to and they're not always the ideal place to find a new partner.
Simply stop looking for a 'partner' and perhaps look to change your lifestyle in some way. You might wish to take up a new hobby or sport and join a society or club related to it. Often, this can be a very good way of meeting a potential new partner. There's no pressure as you'll be there as part of a larger group of people from all walks of life simply sharing a common interest but it's often a good way of getting to know like-minded people without the pressure of it being a 'date'. Don't, however, join a club with the 'hidden intention' of finding a new partner. Simply see it as a good way of meeting new people and making new friends.
Relax and enjoy yourself in whatever you do and you'll soon find that your new born confidence and renewed zest for life will attract others to you as opposed to you having to go out searching for them.
There are no hard and fast rules about finding a new relationship after you've experienced a divorce but allowing time to get over your previous relationship first and taking steps to start enjoying life again in general are often the two most important steps you're likely to take.
You might also like...