Telling Your Partner About an Affair
By: Lorna Elliott LLB (hons), Barrister - Updated: 7 Dec 2018
|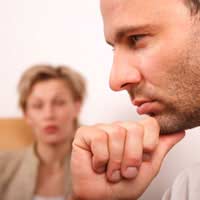 If you're reading this you're likely to be trying to decide whether or not to tell your spouse or partner that you have been unfaithful. There are conflicting adages when it comes to affairs: "What they don't know won't hurt them," versus "honesty is the best policy".
Whether you decide to tell your partner about the affair or not is ultimately up to you, and things are generally easier if you have made the decision to leave. However, things can get complicated if you realise you have made a mistake and want to mend your primary relationship.
You may think that saying nothing is easiest, or you may think that you should be honest before you can try to move forward in your relationship. This article is intended to provide you with a checklist to prepare you – and to ensure that you are clear in your own mind before you have the conversation with your partner.
Your Current Partner's Reaction
How your partner will react when you break the news is likely to be a significant determining factor in your thought process. They may get angry, upset, they may reject you completely, or they may tell you that they had already suspected it and are glad – at least – that you have been honest enough to tell them. In reality, it is very hard to predict your partner's reaction.
If You Know You're Going to Leave
Things are easier if you decide that you are going to leave your current partner for your new lover, you may decide your current partner need never know about the affair. It may feel easier to leave without telling them that you have had an affair, but this could leave to problems later on if they find out, or if you tell them half-truths as your reasons for leaving. The truth may hurt, but it may be better than extending the web of lies.
Be clear as to what you are going to say
Take responsibility for what you have done
Be prepared to answer questions
Have an exit strategy
If you don't yet know what you want
Often, people who have affairs want to stay with their existing partner but continue the affair as well. They may feel devoted and strongly attached to their partners but their lover could make them feel free, alive and emotionally charged.
Telling your partner about your lover could mean that you are given an immediate ultimatum: "it's me or him/her." Backed into this kind of corner, you may choose your partner over your lover – but it could lead to resentment, being unfulfilled, and the potential for other affairs in the future.
If Your Partner Has Found Out
Circumstances may dictate that you have to have this conversation before you have decided what you want, in which case you must be as honest as possible but never to promise something that you cannot deliver. In this situation, you have to look after yourself too. Giving in to the demands of your hurt partner or lover because of your own guilt (i.e. so that your decision is made for you) is not the same as coming to your own conclusions. You need to decide:
what you want for yourself (this must come from you, rather than from your partner or lover)
that you are prepared to deal with the loss of the other person
what it was that was missing in your existing relationship
that you are not going to keep changing your mind
Not Telling Your Partner
Some people consider that it is far better not to tell your partner, and that confessing all, in the absence of suspicion, is akin to reliving your own guilt by offloading the stress and pain onto your unsuspecting partner.
If the affair is over and you want to make a go of your existing relationship, you may decide that it is better not to destroy the trust that your partner has had in you. If you are able to look objectively at your partner, there may be good reasons for saying nothing. They could be emotionally fragile, have had issues with trust in the past, or suffer from a fear of abandonment.
It is fair to say, though, that not telling your partner about an affair that has been anything more than a one night stand mistake is incredibly difficult- and that it may hinder your ability to move on because you will always bear the burden of the secret you have kept from your partner.
Staying With Your Partner
If you have decided that you want to stay with your existing partner (and they are willing to try to mend the relationship) they are likely to be upset, angry, insecure and suffer a loss of confidence in the aftermath. During this period of healing, they may seem less attractive compared to your lover – which could lead to you questioning your decision. Remember that this is a time of healing and adjustment for both of you, and that they are trying to come to terms with your infidelity.
You might also like...