Partner in Prison: Should You Wait?
By: Lorna Elliott LLB (hons), Barrister - Updated: 20 Jul 2020
|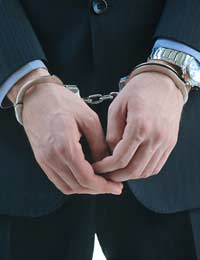 Whether you suspected your partner was up to no good before he (or she) went to prison, or whether it came as a total shock to you, it is very hard to get used to the fact that you will have to spend a long time without them before you can be together again. In some cases, if your partner was given an indeterminate sentence, you will not have a definite release date to work towards. Whether your partner is released or not will depend on the Parole Board and how well he or she does in prison to reduce their risk.
Partners of prisoners often experience substantial upheaval when their love ones are first sentenced; there is the loss of emotional support, the loss of income to contribute towards the family finances, and the social stigma of having your partner in prison. People often find that some friends keep their distance when this happens, while others – who perhaps you didn't realise were such good and loyal friends – really shine through and offer unwavering support.
Some of you will have husbands or wives in prison, spouses who you have been married to for many years and with whom you have children. Others will just be at the start of their relationships when their partners are sentenced to a jail term. Everyone's circumstances are different, so there is no hard and fast answer to whether you should wait for them or not.
Look After Yourself
While a trial, prison sentence and any financial confiscation (if applicable) may be your main focus for a while you need to consider your own needs in the longer run. There will be times when you feel absolutely livid at your partner for having put you in this situation; and things that your children say about missing their mummy or daddy could also fuel this fire.
You may also experience substantial difficulties with the press. Whether it's a small article in your local paper, or headline national news, you may suffer the social effects of your partner's crime. In some instances you may need to move away from your home area because of the way that you are treated by the local community.
Often, prisoners can be moved to prisons that are far away from you and this will make maintaining close ties very hard. There are ways for prisoners to be moved to prisons closer to you for short periods of time so that you can see them (known as 'accumulated visits.') There are also schemes whereby you can request the cost of your travel to and from prison in order to see your loved one, if the cost of the travel would put you in financial hardship.
Your Partner's Feelings
Some prisoners are able to 'do their time' without it affecting them particularly. They accept what they have done is wrong and are able to work towards reform and a trouble-free life on release. A substantial number of prisoners struggle when they are sent to prison. It is quite normal for prisoners to become quite inward thinking and in some cases self-pitying. Men in particular can become quite jealous of what their partners might be 'up to' on the outside in their absence. This can often cause friction in relationships which can be cumulatively destructive.
It is worth bearing in mind that your partner is almost certainly having a tough time too; and while in prison they have a lot of time to think. If your partner was insecure before he or she entered custody, this can manifest itself strongly when in jail. While both of you will undoubtedly be suffering, it is worth remembering that continual blame or resentment for the situation that your partner has put you in is not likely to work well in supporting your partner though their sentence.
In conclusion, whether you decide to wait must be your decision alone. Remember, it is your relationship – and your life - and you should not be pressured by others into making a decision. Only you know how you feel about your partner and whether they are worth the wait.
You might also like...
My husband has just been jailed for 15 years as he attempted to murder me. Unfortunately he got off with a section 18. I need and want a divorce any straight answer would be much appreciated. The marriage took place 27.10.2018. Thank you in advance.
Alice0302
- 20-Jul-20 @ 12:03 AM