External Factors That Affect the Divorce Rate
By: Lorna Elliott LLB (hons), Barrister - Updated: 16 Jul 2010
|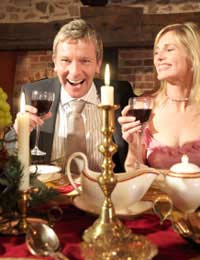 Although you and your spouse may be at each other's throats all the time, have you ever wondered whether it could be something externally that is destroying your marriage? This article examines some of the factors outside the marriage that have been proven to push up the divorce rate.
A Change in the Law
Historically, changes in divorce laws result in higher percentages of divorces. In 1971, a lot of people divorced following the Divorce Reform Act. (In Italy, divorce only became legal in 1971!) The divorce rate then dropped until the Matrimonial and Family Proceedings Act in 1984, at which time it rose slightly again.
Economic Uncertainty
In periods of recession, people are less likely to divorce. In 2008, the divorce rate in the UK fell to its lowest for twenty nine years. Spouses may decide to 'ride out' the recession and go their separate ways when they are more likely to get a better price for their matrimonial home. Another factor may be that if one spouse has been made redundant, the other holds off on petitioning for divorce until such time as they've got another job – as this will affect the way in which the courts are likely to allocate financial matters between the parties.
Social Class
Getting divorced has less to do with your social class than your economic situation. It follows therefore that there may be those who consider themselves middle-class but impecunious are more likely to divorce than working –class couples who are content with their income. In short, it's about expectation and how far spouses have those expectations met in a marriage. Family background does however play a part in influencing marriages, which may be explained by the constraints that are imposed on spouses through upbringing and parental expectation. For example, those from working class backgrounds tend to marry at a younger age, and marriage early in life is more likely to lead to divorce than marrying at a later stage in life.
Your Parents Are Divorced
If your parents remained together throughout your childhood you are less likely to divorce than those whose parents separated, divorced, or who were not together in your childhood.
If You Have Been Married Before
If you or your spouse have been married before, you are more likely to divorce than spouses who are in their first marriage. This could be for two main reasons: those who have divorced before are more familiar and less daunted by the process, and second marriages can suffer financial and emotional strain because of the after-effects of the previous marriage(s). One in five people divorcing in 2008 had been previously married.
Christmas and New Year
January and February are the busiest times of the year for divorce lawyers. This is often because over the Christmas period, people tend to think that they are going to be able to sort out their marital difficulties without the distraction of work or other commitments. The Christmas period is the time when most of us dedicate ourselves to our families, and coupled with the dawning of a new year leaves many spouses feeling that they need to make changes in their lives. If the holiday period leaves you feeling unfulfilled, neglected or that things simply aren't going to work out – it's no wonder people decide to consult their divorce lawyers. Often, people hold off from divorcing until Christmas is out of the way, whether for the sake of the children, because of visiting relatives, or because they cannot bear the prospect of Christmas on their own.
You might also like...