DIY Divorce: Is it Right for You?
By: Lorna Elliott LLB (hons), Barrister - Updated: 7 Dec 2018
|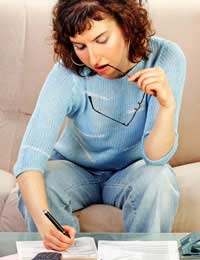 You might just have separated, and want a quick and easy divorce. If, like most, money is tight, you could be looking for a way of saving money on your divorce. Alternatively, you may decide that you hate lawyers and would rather do your own divorce. This may be a straightforward process, but the forms and procedure could put you off. If you come across a 'DIY divorce' website on the internet that promises you a cheap divorce for perhaps a couple of hundred pounds, should you use it?
In recent years a lot of DIY divorce sites have sprung up all over the internet, but using this kind of service may not be right for you. Here are some useful questions to help you work out whether you need more detailed legal advice than the type offered by DIY divorce sites:
Is Your Divorce Amicable?
If you go down the DIY divorce route, you and your spouse will have to be prepared to talk to one another as there is no solicitor to act as an intermediary. Of course, your divorce doesn't have to be entirely amicable for you to be able to use a DIY divorce service, but you must be able to negotiate.
Are You and Your Ex Agreed on all the Issues?
If the answer is yes, and you are confident that things will stay that way, then you may be able to do your own divorce. If you are agreed on trivial matters, but not on something important, like what happens to the family home, then you probably shouldn't use a DIY divorce website but seek legal advice on your position instead.
Are You Sure of Your Legal Position?
You may need to clarify what you are entitled to before you agree things with your ex. For example, if the family home was in your ex's name only, or if you or your ex inherited money during your marriage, or if only one of you had an income, you may want to find out what your legal position is before you agree terms with your ex. You could be selling yourself short if you don't.
What Level of Service do You Need?
As with everything in life, you get what you pay for. DIY divorce sites offer a cheap divorce, so you won't get the quality of service or level of client care that you would from a high-street solicitor. While it's a lot cheaper to use a DIY divorce website, these businesses survive on a high-volume of cases undertaken for a low fee. That means that if you phone up or email with a query, you are unlikely to be made to feel as important as you would with a solicitor personally assigned to your divorce. Some people have complained that calls are not returned, and emails are ignored, but others have found the standard of client care sufficient.
Warning
If you use a DIY divorce site and get it wrong, it can be much more difficult and extremely expensive to sort it out at a later stage. Think twice before you choose to save a few hundred pounds over what could potentially lose you thousands – either in legal costs or in money that you were entitled to, but did not know about.
DIVORCE RESOURCE IS FOR SALE.
This website is for sale [more info].
You might also like...