What a Separation Agreement Covers
By: Lorna Elliott LLB (hons), Barrister - Updated: 17 Nov 2016
|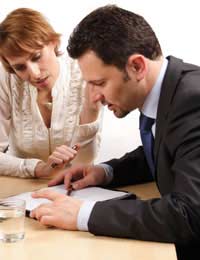 Separation Agreements are intended to make provisions for all aspects of married life so that each spouse has a clear understanding of their obligations to themselves, each other and their children. It is important that, during the negotiation process, neither spouse tries to attribute blame for the breakdown of the marriage, not least because they have to work together to come to an agreement that is satisfactory to both parties.
Issues Concerning Your Children
If your marriage has produced children their welfare and custody will undoubtedly be of fundamental concern to you and your spouse. In order for a separation agreement to be effective, it is vital that both parties are able to cooperate with one another to enable negotiations to run smoothly. Therefore both parties must approach the process with an open mindset, and be ready to meet one another half way.
Where They Should Live
Depending on how old your children are it may be that they are able to decide for themselves which parent they would like to live with. If your children are going to live with you, make sure you contact the Inland Revenue to inform them of the separation because you will be able to claim child tax credit.
If one parent is planning on moving out of the local area, decide what – if anything – this will mean for the children's schooling. It is also important to decide who will pay for schooling, school trips and other things the children need, as well as whose insurance/medical policy the children will be on. In terms of maintenance payments, make sure that you agree the amount, frequency, and purpose of any payments as well as how the payments will be made.
If You Die
Make sure that in the event of one parent's death, the other parent is automatically given full custody of the children, who will go to live with them at their discretion. It is also important to choose suitable people who will be custodians of your children in the event that both of you die.
Your Shared Property
This issue is the one that causes most animosity and, if it can't be settled, can often mean the difference between a separation agreement and divorce. A good tip is for each of you to write a list of everything that you want, based on how much you use it, whether you need it, or whether it is of sentimental value. Then, agree between yourselves who gets what and ensure that these lists are attached to the separation agreement.
The Matrimonial Home
If your property is owned without a mortgage, you will have to decide whether one of you will remain in it, and whether the other spouse will receive compensation for their share of the equity in it, or whether it will be sold and the proceeds divided between you. If you have a mortgage on your property, the separation agreement will need to reflect who is going to meet the mortgage payments, or other associated payments, each month. If there are children to consider, often the spouses agree for them to continue to live in the property until such time as the divorce is finalised, after which time it is sold and the proceeds shared equally.
You might also like...
Hebrew - Your Question:
Hi there.I have been married for nearly 3 years before me and my wife separated (informally for 6 weeks). All my personal belongings my wife has possession of and she refuses me access into the property to retrieve my belongs so I am effectively homeless since the home we lived in was owned by my wife from a previous marriage. I am currently living with my parents and I am in the process of looking for a property (valuing £400,000). My question is; if I purchase a property although separated from my wife. Will she then be entitled to a share on that property should we decide to divorce later on.Regards
---
Our Response:
Much depends upon what money you use to buy the property with. If you purchase the house with money used from a joint marital account, or money you have accrued while married, then yes, your ex will have the right to claim her share. On another note, if you are living elsewhere when the locks are changed or your ex refuses you access into your home following the breakdown of the relationship, you can ask the police to accompany you to the house while you remove items that are yours. You must be able to prove that you are allowed access to the property. Ownership of common items are likely to be disputed, so this is best sorted out away from the home environment.
DivorceResource
- 18-Nov-16 @ 11:09 AM
Hi there... I have been married for nearly 3 years before me and my wife separated (informally for 6 weeks). All my personal belongings my wife has possession of and she refuses me access into the property to retrieve my belongs so I am effectively homeless since the home we lived in was owned by my wife from a previous marriage. I am currently living with my parents and I am in the process of looking for a property (valuing £400,000). My question is; if I purchase a property although separated from my wife. Will she then be entitled to a share on that property should we decide to divorce later on. Regards
Hebrew
- 17-Nov-16 @ 1:57 PM